20 Years of Music Therapy Moments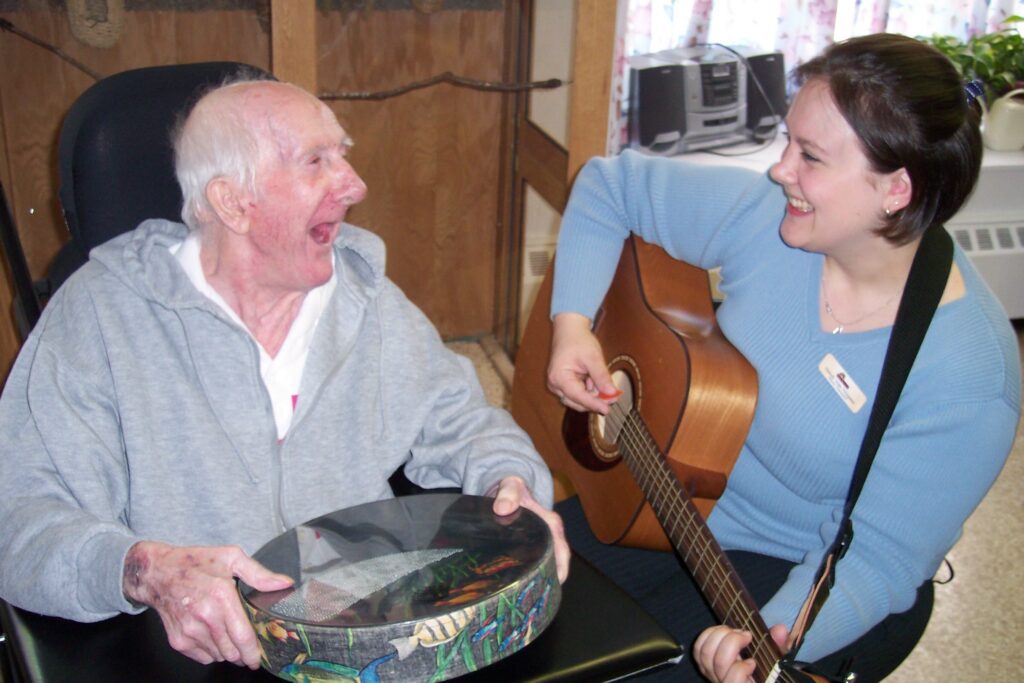 It is hard to believe that this month marks the 20 year anniversary of Music Therapy Services of Simcoe County. Mostly because I don't feel old enough to have reached this milestone. So much has happened in this time. It is overwhelming when I stop and think about the thousands of people we have worked with over the years. Each and every client has made an impact on us. Likewise, we hope that our music therapy had an impact on their lives. It is hard to summarize 20 years in one blog post, but I want to share some of my favourite music therapy moments.
End of Life Moment
One of my first clients lived in a long-term care home. I visited him twice each week and supported his mental health by singing songs that were familiar to him. The oldies that were popular when he was young. The last day I had a sessions with this gentleman, he was actively dying. I sat with him and softly sang some of his favourite songs that we had enjoyed together over the years. This gave his family who were holding vigil a moment to get a coffee and some fresh air. While I was singing, the nurse came in to check on him. We noticed together that a tear was gently falling from his eye. The nurse explained that he had not responded to anything for the last day. That moment highlighted how music can provide meaningful connections right until the end of life.
Moments Come With Patience
Another client I worked with early in my career was a different gentleman in a long-term care home. For several weeks I tried very hard to develop a rapport and figure out what music he liked best. But I felt like I was struggling to connect with him. I remember I was on the verge of resigning that music therapy just wasn't his thing. Until the day the nurse stopped me and said "he sang It's A Long Way To Tipperary for hours after you left last week!". I was in disbelief. I was sure she was thinking of someone else. This grumpy gentleman transformed into a singing machine. I continued to work with him for many years. He always sang enthusiastically with his favourite songs. This moment taught me that some clients need a little longer to warm to music therapy. Had I given up too soon, this man would have missed out on years of joy and meaningful moments.
Crisis Intervention
One of my favourite things about being a music therapist, is being able to use my skills to help a client who is in crisis. It is unfortunately very common for clients in long-term care homes to have moments of extreme agitation and aggression. In these moments their confusion can make it difficult to offer reassurance and help the client calm and feel better. In these moments music therapy can be magical.
One of of these occasions a woman was in the wrong bedroom, was confused and didn't want to leave. The attempts by nursing staff to guide her back to her room caused an increase in agitation and aggression. I cleared the room and starting singing softly. Initially this woman was not impressed and continued to try to lash out. However, after 3 songs her mood had done a complete 180o shift. We walked out arm in arm singing to her favourite Elvis song. This was just another day at the office for me. However, the amazement in the eyes of the nursing staff affirmed how special music therapy can be. This moment in particular solidified my passion for mental health support in long-term care.
Growing Our Team
It didn't take long for the demand for music therapy to exceed what I was able to fulfill on my own. Over the years I have welcomed 22 music therapists to Music Therapy Services of Simcoe County. I dabbled with subcontractors for a couple of years before deciding that employees was a better fit for the vision I had for my company. I have mentored 6 interns, 3 of which turned into employees. It took a different set of skills to learn how to be a good employer. There were definitely some sharp learning curves along the way. Mistakes were made and lessons were learned. Yet, all these experiences good and bad led me to where our team is today. Each subcontractor, intern and employee has taught me lessons about myself and how to be the best employer I can be.
Before the pandemic, our clinic in Barrie was a busy place. Often I would work in my office and have the privilege of listening to multiple team members work with multiple different clients at the same time. The competing and clashing sounds coming from 3 different clinic rooms would give some a headache. But listening to multiple certified music therapists doing their best work with clients that put their trust in us to help them with their developmental or mental health goals filled my heart with gratitude and pride. I am longing for the day in the not too distant future when I can experience this once again.
Reflecting on 20 Years
As any entrepreneur knows, being a business owner is a lot of work. The work that I have done these past 20 years is a labour of love. I am proud that I have created opportunity for our community to access music therapy locally. I am grateful for my team of certified music therapists who chose to make Simcoe County their home and dedicate their careers to my company. Most importantly, I am honoured that so many clients allow us to make a difference in their lives with healing and transformative music therapy moments.
Heidi Flynn, RP, MTA