Blessings In A Pandemic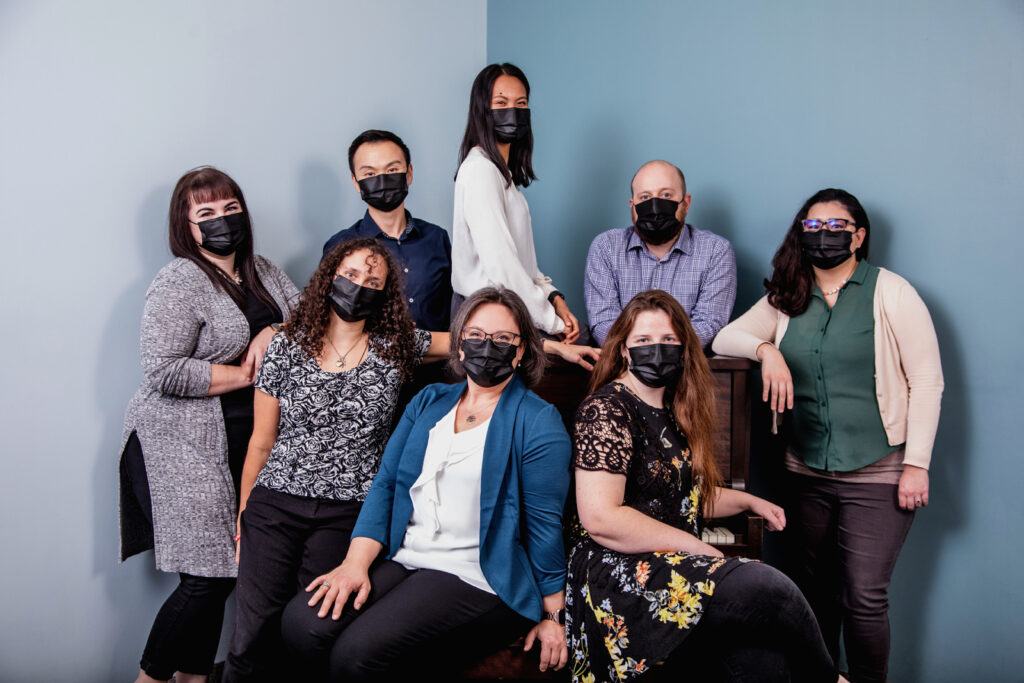 We've made it through the most challenging and stressful year our company has ever endured. COVID-19 has created hardships for many. We have all become experts in grief. Yet, our team found many blessings in a pandemic.
It feels like March 2020 was a lifetime ago. I clearly remember speaking with our team and trying to anticipate the impact the pandemic would have on our work. In the spring of 2003 all long-term care facilities closed their doors at the same time because of SARS. That was my only point of reference. I did my best to convince our team that COVID probably wouldn't be any worse. Little did we know what was in store for us.
Where Are The Blessings?
When the world abruptly shut down all our work stopped. That was one of the hardest days. I was responsible for the livelihood and wellbeing of 7 other people as well as my family. The stress and pressure was indescribable. I remember the day I had to layoff more than half our team. I cried as I filled out their paperwork. It felt like everything I had worked so hard to build over the past 18 years was being washed away overnight.
Those first few weeks were the hardest. Everyone was uncertain and scared. The information was changing daily and it was impossible to keep up. I remember sitting on my bed (my new office) listening to the daily briefings from our government officials. Trying to figure out a path forward for our company and our team.
The First Blessing
Our first blessing we experienced in the pandemic was when the wage subsidy program was changed to cover up to 75% of our wages. This was the sign I needed to see a path forward. Once this was announced I frantically did the calculations. How many online sessions we needed to cover costs for the team members I had yet to lay off. Now I knew what I had to do. I had a goal. I also figured out how many online sessions we needed to bring back all our team members. Then I got to work.
I remember how I was buzzing with optimism and excitement when I announced this plan to our team. I set the goal of bringing back one therapist every month until we were all working together again. This was the leadership they were counting on and I was ready for the challenge.
The Second Blessing
The second blessing found in this pandemic was the support we received from our music therapy community. Before the pandemic, the growth of our company was organic. We hired new therapists as needed to meet the growing demand for music therapy. This was the first time I had to hustle to find work for our team. It was a humbling experience. But, every time a client said "yes we will try online sessions" my heart burst with gratitude. Their willingness to try something new is what kept me going day after day. All the while I chipped away at rebuilding our team.
During our rebuilding phase we also made connections with so many new clients and long-term care facilities. It was a slow and steady process but by mid summer our entire team was back on payroll. This is an accomplishment I am still incredibly proud of. But of course, once I met this goal I set a new one to continue to grow our caseload so we could be self-sufficient when the wage subsidy program stopped.
The Third Blessing
The third blessing our team experienced in the pandemic this year was time. As we were building our caseloads, our therapists were working full time but had quite a bit of extra time on their hands. Before the pandemic, we were busy with clients. At the end of each week there were always more songs to learn and more resources to develop. The extra time allowed us to focus on housekeeping within our company. We focused on paperwork, learning new songs and making new music therapy activities.
The most important things we did with extra time was focus on team leader positions. We found ways for each therapist to use their passions while contributing to the company. These team leader positions were probably the thing I am most proud of. They brought our team closer together and increased job satisfaction and pride in their role in the company.
This year has been an emotional rollercoaster. I have worked harder this year than the past two combined. I've experienced the lowest lows. But, thanks to many blessings, I have also experienced joy, gratitude, and hope in the pandemic.
By Heidi Flynn, Registered Psychotherapist, Certified Music Therapist