Music Therapy & Seniors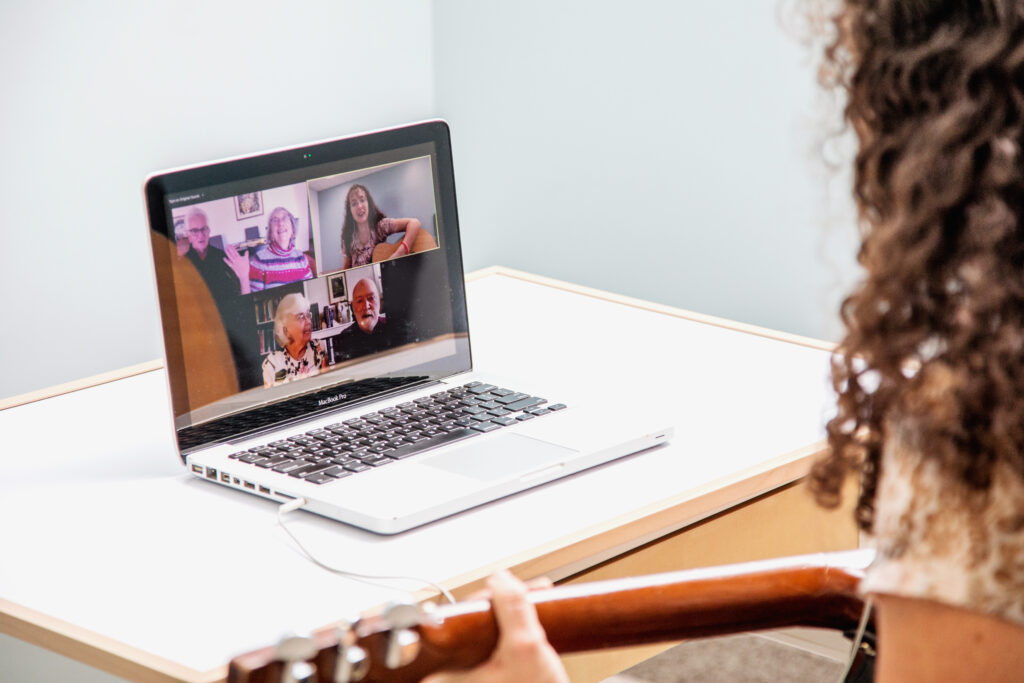 Mental health care is just as important to seniors as their physical care. Imagine being a resident in a nursing home. Most people who interact with you provide some kind of care. They might help you get dressed, help you eat, or help you shower and use the washroom. It is a reality for some that the majority of their interactions with others are with the nurses and PSWs that provide their physical care. Furthermore, the pandemic is making it more difficult for seniors to have meaningful interactions with others. Families are not allowed to visit freely. The life enrichment staff are run off their feet doing their best to support everyone's social and emotional needs. As a result, social isolation is a very real concern for many.
Meaningful Moments
Now imagine someone else comes to visit with a guitar. They give you a smile and asks what favourite song you want to hear. Then, they sing songs to you from when you were young. They stay and talk for a while. During the visit they might even bring an instrument for you to play! This very well may be the highlight of you day, or even your week. These meaningful moments can have a lasting impact!
Seniors mental health is important in their overall wellbeing. Music therapy can be effective in preventing and treating symptoms of depression, anxiety, agitation, and feelings of loneliness and isolation. Music therapists use music intentionally as a form of medicine. We develop goals and objectives for the client based on what they need. There are a wide range of ways we use music. This can include singing, playing instruments, moving to music, and reminiscing.
Why Music Therapy?
When we offer seniors choices it gives them an increased sense of control and empowers them. It is a means of self-expression. In the case of music therapy, do they want to play the loud drum, or do they want to play a quiet, small maraca? Do they want a quiet song, with sad lyrics? Or do they want an upbeat song with fun lyrics? Sometimes, the senior's short term memory is poor, or they have a hard time finding the right words to express what they want to say.
However, clients often surprise themselves, and when the right song is played, they can sing the correct words, and in the correct order! This improves their self-esteem and self-confidence. Improvisation on instruments is a great way to get in touch with and improve a client's emotions. Called cathartic release, the playing of a drum for example, can be a good way to appropriately release anger. Lyric analysis is also beneficial. By first picking a meaningful song, for example, "Count Your Blessings" and reading the lyrics. Then you can then discuss things they are grateful for.
Seniors Mental Health
A woman I supported was very anxious at the beginning of her sessions. She talked quickly, yet her speech was not coherent. She was often tearful, clinging to a doll and calling it her "baby". However, she loved Elvis and hymns. When I provided these songs in the sessions, she often look up, was present in the moment, smiled, and began singing along with the songs. Singing might not sound like a big deal, but the correct words in the correct order is for a woman who has lost her ability to communicate clearly! Her appropriate participation caused her to smile throughout the session and her tears to disappear. The music therapy boosted her confidence while also calming her anxiety and depression.
Increasing Social Connections
On one occasion around Labour Day, work related songs were presented to stimulate some discussion. The six clients were asked what they used to do for work. One said she was a teacher. Suddenly, another in the circle said "I was a teacher too!" They made eye contact with each other, and suddenly they weren't one person in a group – they were connected with each other. They found they had something in common, thereby decreasing their feelings of loneliness and isolation. In this example the connection wasn't limited to just the group, but continued long after the group had ended.
Seniors Music Therapy Online
Working to support seniors during this pandemic has looked a little different. Some clients have sessions in person with masks and sometimes face shields. However, many more clients continue to receive music therapy online. While it is very different, we are making it work. It is a privilege and an honour to provide music therapy to seniors. It is very rewarding to see how music therapy can improve their mental health and quality of life.
By Kimberly Arsenault & Heidi Flynn